Application Notes
LogiQuest® Defense Logistics System
Page
1
2
3
4
5
6
7
8
Next...
Additional LogiQuest Features

The LogiQuest tabbed display interface supplies most of the information available for single records immediately, with automatic cross referencing and cross-searching. When you are dealing with large result lists, LogiQuest lets you

● download data,
● design custom reports,
● search offline (in batch mode) and
● find logistics information on the Internet.

You may customize your account so that the Data View you work with most often is your default Data View and tailor preferences for each Data View. In release 1.5 we added more ways for users to specify which cross-reference data is displayed, and to change the display order. In release 1.7 we greatly improved the download, batch and printing capabilities. These improvements included support for exporting data into MS Access and nicely formatted MS Excel workbooks.

Usage Examples
A searcher who wanted to find clutch units for turbines could simply type in "turbine clutch". The system would automatically find those parts that had both of the terms somewhere in their description. Adding Status:C to the query would restrict the list to current parts.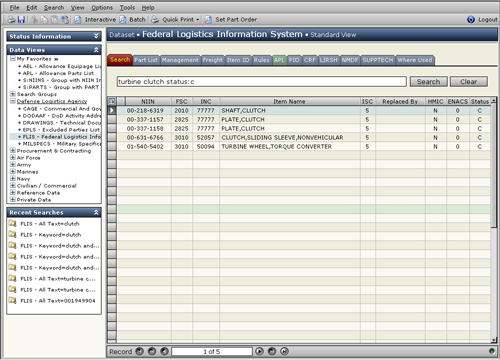 In this example, the system found over 55,000 parts for "turbine" and almost 15,000 parts containing "clutch". Combining the two terms and filtering for only currently active NIINs, the number of parts that met all criteria was 5. The results are listed in the lower table.
As each record in the grid is selected, tabs appear across the top of the form indicating what data is available for the selected part.